The new year is here and it's hard to believe it's 2015! As we recover from the holidays, many of us are planning to make some healthy changes for the new year. Call these resolutions if you like, but I'm going to refer to them as commitments because resolutions have a tendency to fade away as the year goes on but a commitment is something we are more likely to stick to!
Winter weather and busy schedules tend to wreak havoc on our skin. The holidays are packed with sugary snacks, high fat foods, "spirits", and sometimes stress. We often get carried away with the season and our usual routines are interrupted. This can cause us to become unbalanced, and our skin suffers. Luckily the new year is a clean slate and you can get back on track by making healthy commitments to yourself.
1) Drink more water – Most of us do not drink enough water. Keeping hydrated is important for your overall health but also dramatically impacts your skin (your body's largest organ).
2) Stop using toxic products – Conventional beauty care and cosmetic products contain tons of chemicals including parabens, petroleum bi-products, & more. Switching to natural, organic skin care and cosmetics (like Eminence!) reduces your exposure to these harmful additives.
3) Introduce a serum to your skin care routine – Serums are concentrated treatment products, by introducing them into your routine you can achieve better results from your skin care regime.
4) Exfoliate more often – Admit it, you don't exfoliate as much as your should. Exfoliating is essential to healthy skin, especially in the winter. There are some yummy scrubs that make this seem like less of a chore and more of a treat!
5) Eat healthier – A healthy diet can improve your skin, so go for organic non-processed food choices. Beware processed "diet" foods and other manufactured foods that claim to be healthy, there are actually a lot of foods out there that people think are healthy but in fact they're not. Check out this article featuring 7 Foods Most People Think Are Healthy, But Really Aren't.
This homemade soothe recipe from Eminence is an excellent option for a healthy snack:
2 large leaves of organic kale (approximately 1 ½ cups)
2 organic pink grapefruits
½ organic lemon juiced
2 cups of chopped, organic strawberries
1 cup of organic pear juice
Add all ingredients to blender, and blend until smooth.
Citrus fruits, pears and strawberries are rich in antioxidants, vitamins and fiber. This potent fruit and veggie combo is perfect for restoring the body's nutritional balance, promoting digestion and detoxifying the liver post-holiday indulgence.
They also make great skin care ingredients and can be found in some of our favorite Eminence Organics products:
Potent C & E Collection featuring citrus & kale
Pear & Poppyseed microderm polisher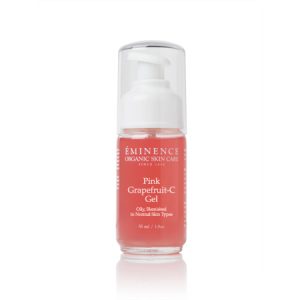 Pink Grapefruit C Gel
This is just a short list of the changes you can make for more radiant skin this new year. Whatever changes you decide to make, commit to yourself and make them a part of your lifestyle. Your skin will thank you, and your overall health and well being will benefit too!