Change is an inevitable part of life. And when it comes to age and your skin, you may experience a plethora of ongoing changes: new expression lines, a loss in skin elasticity and those breakouts that you assumed you left behind in your teen years. As we age, estrogen levels drop and testosterone levels begin to rise. This hormonal imbalance results in an increase in oil gland production in the skin which can clog pores and cause breakouts.
The good news is that we can all age with grace, and do so beautifully, by treating your skin to the antioxidant goodness of our Eight Greens products. Super-charged greens in this collection are formulated with plant hormones (phytoestrogens) to target problem skin and treat visible signs of aging.
Éminence has launched two new starter sets, each featuring an effective treatment routine from a past collection – Eight Greens and Youth Shield.
Whether you're looking to target problem skin and treat visible signs of aging, or if you want to take preventative action against the early signs of aging – these two new starter sets can do just that!
What Do Eight Greens Ingredients Do To My Skin?
For a closer look at the ingredients that make up the Eight Greens Collection – here's a highlight of the key ingredients and what they can do for your skin:
Yucca Extract: What does it do? Antioxidant-rich yucca supplies phytoestrogens to balance sebum production in the skin and promotes regeneration of the skin.
Horsetail: What does it do? Not only does this magical green plant help reduce the look of inflammation, it also assists in forming collagen as well as repairing and restructuring soft tissue.
Hops Extract: What does it do? This ingredient doesn't just make a tasty brew. Hop plants in our Eight Greens products are responsible for helping to promote estrogen production, fight free-radical damage and soften the look of skin.
Red Clover: What does it do? This pretty little flower boasts huge healing powers. Red clover helps reduce the look of inflammation and blemishes, and is often used to treat other chronic skin diseases.
Paprika: What does it do? This spicy (and vitamin-rich) ingredient is what gives heat to our Eight Greens Masque (hot)! Paprika helps the stimulation and oxygenation of skin while its antibacterial properties are effective in treating skin problems caused by bacteria.
Lavender: What does it do? Not only does lavender give our Eight Greens products a pleasant aroma, this floral plant holds antiseptic and anti-inflammatory properties that help calm the look of breakouts as well as repair and rejuvenate the appearance of skin.
Flaxseed/Linseed Extract: What does it do? As a source of omega-3 fatty acids, flaxseed maintains the skin's moisture level and has anti-inflammatory properties to help restore the look of your complexion's overall health.
Stone Crop: What does it do? This powerful succulent helps lighten, moisturize and repair the look of skin, especially in areas that have been subject to scarring caused by breakouts.
Chasteberry: What does it do? In addition to its anti-inflammatory and healing properties, antioxidant-rich chasteberry helps hormonally balance the skin and leave it with a clear, calm and blemish-free appearance.
Eight Greens Starter Set Includes:
Stone Crop Gel Wash (1oz / 30 ml tube)
Eight Greens Phyto Masque (0.5 oz / 15 ml jar)
Eight Greens Phyto Masque – Hot (0.5 oz / 15 ml jar)
Eight Greens Youth Serum (0.5oz / 15 ml bottle)
Eight Greens Whip Moisturizer (0.5 / 15 ml oz tube)
NEW: Youth Shield Starter Set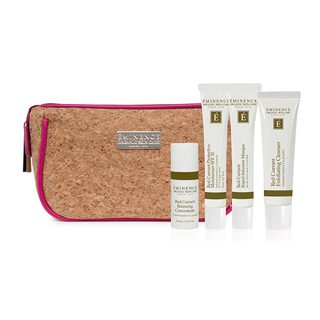 If age preventative action is what you're looking for, our Youth Shield Starter Set may be just what you need. The products in this antioxidant-rich collection are ideal for normal to combination skin types and are formulated to repair, balance and moisturize the skin while keeping breakouts at bay. Naturally derived from red currant, elderflower and magnolia bark, our Youth Shield Antioxidant Complex helps hydrate and improve skin vitality by fighting free radical damage – the leading cause of fine lines and wrinkles.
Youth Shield Starter Set includes:
Red Currant Exfoliating Cleanser (1oz / 30 ml tube)
Red Currant Rapid Infusion Masque (0.5 oz)
Red Currant Balancing Concentrate (0.5 oz)
Red Currant Protective Moisturizer SPF 30 (0.5 oz)