About Namaste
Namaste is an ayurvedic term meaning "The spirit in me honors the spirit in you". We selected this term as the name of our studio because it describes how we run our practice. Our passion lies in the deep belief in the mind/body/spirit connection; and this is evident in all of our spa treatments.
Reveal Smoother Skin
Buff your skin to perfection with Eminence Organics Sugar Scrubs in new, improved packaging.
News & Skin Care Advice!
Sign up for exclusive deals & info
Shop Eminence
Eminence Organic skin care is all natural and 100% organic. Free of parabens, animal by-products and harsh cosmetic chemicals. Shop for Skin Care…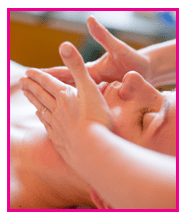 Book an Appointment
Book an appointment with one of our amazing spa practitioners! Connect your body, mind & spirit with a spa appointment at Namaste! Contact us…
Spa Services
We pride ourselves on our ability to offer a complete range of spa services that focus on honouring your body and spirit!  See our Services…
Gift Certificates
Click here for the perfect gift to spoil that special someone! Purchase instant online gift certificates for any occassion. Send a gift…
---