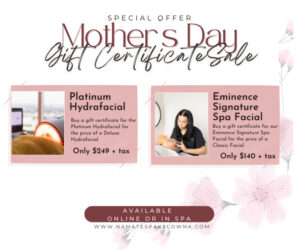 Mother's Day is just around the corner, and it's time to start thinking about how to make the special mother figure in your life feel appreciated. One perfect gift that they'll surely love is a gift card for a luxurious spa treatment. And if you're looking for the perfect deal, Namaste Day Spa has got you covered with our Mother's Day gift card special.
This year, Namaste Day Spa is offering an exclusive discount on two of their most popular spa treatments. The first deal is for our 90 Minute Signature Spa Facial, which you can now get for the price of the 60 Minute Classic Facial. The second offer is for the Platinum Hydrafacial, which you can enjoy for the price of the Deluxe Hydrafacial.
So, what exactly are these treatments, and why are they such a fantastic gift option for Mother's Day?
Let's start with the Eminence Organics Signature Spa facial. This treatment is designed to nourish and rejuvenate the skin using Eminence Organics' natural and organic skincare products. The facial begins with a deep cleansing, followed by gentle exfoliation to remove dead skin cells. The Esthetician then applies a hydrating mask and finishes with a relaxing facial massage. This luxurious facial leaves the skin looking and feeling refreshed, glowing, and hydrated.
The Platinum Hydrafacial, on the other hand, is a cutting-edge treatment that uses advanced technology to clean, exfoliate, and hydrate the skin. The treatment uses a special wand that removes impurities, while at the same time infusing the skin with serums to hydrate, brighten, and reduce the appearance of fine lines and wrinkles. This facial is perfect for anyone looking for a quick and effective way to improve the overall health and appearance of their skin.
Whether you opt for the Signature Spa facial or the Platinum Hydrafacial, your mom will undoubtedly appreciate the opportunity to relax and be pampered. Both treatments are designed to leave the skin looking and feeling its best, and the Eminence Organics products used in the facials are known for their high quality and natural ingredients.
These two gift certificate options, as well as any of our other gift certificates are available for purchase online, or in-spa.