The seasons, they are a changin! The transition to fall  is like a new beginning; the sun sets sooner, the leaves change colour, we change our wardrobe (layering up as the temperature drops, grabbing a scarf or pulling out our favorite pair of boots from the back of the closet). We start to crave warm and cozy things like sweaters and pumpkin spice lattes.
It's important to remember that along with the change in temperature, the air gets a lot drier and your skin begins to lose a lot of moisture. Autumn skin care is focused on repairing any sun damage from the summer months and preparing your skin for the winter. To prevent dry, flaky skin this winter, make sure you follow these essential steps:
Switch up your products
Often a changing seasons also causes changes in your skin. If your skin is on the oily side you may notice that you are a little closer to normal come fall/winter, or if you generally 'normal' you may notice your skin feeling more toward the dry side. These changes make it important for you to assess the products you are using and make adjustments (as if we need an excuse to shop for more skin care, but this is a great one!).
For your face, try adding more moisture by using a rich cream or masque in your regime. We love the seasonal pumpkin products by Eminence, pumpkin is rich in enzymes, beta-carotene, amino acids, and antioxidants.
The Pumpkin Latte Hydration masque uses pumpkin puree and luscious ingredients like avocado oil and soy milk to nourish dry, dehydrated and devitalized skin.
Another favorite is the Yam & Pumpkin enzyme peel, a refining 5% peel that uses Phyto-Hyaluronic Acid (Phytocollagen): deeply hydrating; natural substance that smoothes and plumps skin to minimize the appearance of fine lines and wrinkles. The Yam & Pumpkin 20% peel is available in a professional facial treatment.
The seasonal pumpkin products are limited edition, so if they sound like a yummy treat you just can't resist you better get them while they're hot!
For your body, changing your usual exfoliator is a good start. As we've mentioned before in another article, exfoliation is essential! You may be tempted to skip this step as you cover up with jeans, leggings, and long sleeves but remember your skin needs love! Dry skin is irritating, so avoid the itch and keep hydrated with an oil based sugar scrub. Sugar is a natural source of glycol acid (encourages cell turnover) and a natural humectant (draws in moisture), combined with hydrating oils this is the perfect way to scrub away fall/winter dryness!
Moisturize every day
Every. Damn. Day. Seriously, this is critical. Our skin loses moisture at a much faster rate in cold weather, so don't skimp on your hydration. You can do little things like switch your body lotion/cream to an extra moisture rich formula. Throw a travel size hand lotion in your bag, and pick up some petroleum free lip conditioner. Another important reminder, don't forget about sunscreen! Just because we aren't laying on the beach doesn't mean we should stop using SPF. A facial moisturizer with SPF is a year round essential.
Don't neglect your feet
Because we don't show them off as much in the winter, we don't spend as much time caring for our feet. This is a big mistake, keeping callouses and cuticles under control year round decreases the likelihood that you will experience dry cracked heels and other issues. Consider having a mid season pedicure (we use Footlogix professional products in our pedicures), and keep up the maintenance with products at home.
Organize your routine
I love this suggestion from About Style: Organize your skin care routine. What does this mean? Schedule your routine in a way that works for you so you remain consistent! With extra steps like masques and treatments, it can be hard to remember what you did last or when. You can set certain days for certain treatments, for example apply a masque on Sundays and exfoliate Tuesdays and use a treatment serum on Fridays. If you keep it fairly schedule, it will easily became a part of your routine!
There you have it! Just a few easy ways that you can keep your skin glowing through the dreary parts of the year, of course no post about fall would be complete without a yummy seasonal recipe. I dug up this tasty (and healthy!) idea from Health.com, check it out:
Rosemary-Apple Bread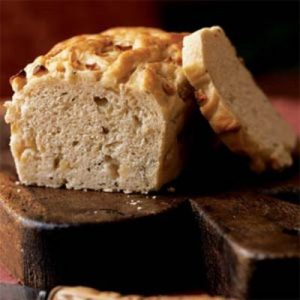 Ingredients
3 cups all-purpose flour, divided
1 1/4 teaspoons salt
1 teaspoon finely chopped fresh rosemary
1 package quick-rise yeast (about 2 1/4 teaspoons)
1 cup warm water (100° to 110°)
1 cup diced peeled Granny Smith apple (about 1 small)
Cooking spray
2 teaspoons butter, melted
Preparation
Lightly spoon flour into dry measuring cups; level with a knife. Combine 2 3/4 cups flour, salt, rosemary, and yeast in a large bowl, stirring with a whisk. Add water, stirring until a soft dough forms. Turn dough out onto a floured surface. Knead until smooth and elastic (about 8 minutes); add enough of remaining flour, 1 tablespoon at a time, to prevent dough from sticking to hands. Cover and let rest 5 minutes. Knead in apple. Place the dough in a large bowl coated with cooking spray, turning to coat top. Cover and let rest 10 minutes.
Preheat oven to 375°.
Shape dough into a loaf; place dough in an 8 1/2 x 4 1/2-inch loaf pan coated with cooking spray. Gently press dough into pan; cover. Let rise in a warm place (85°), free from drafts, 30 minutes or until doubled in size.
Bake at 375° for 45 minutes or until bread is lightly browned and sounds hollow when tapped. Brush top with butter. Cool in pan 5 minutes. Remove from pan, and cool completely on a wire rack.